4/09/2020 – Publireportage B2LUX : The new tram in Luxembourg, conversation with the project managers of Paul Wurth Geprolux
News
4 September 2020
Publireportage LUXTRAM, published in B2LUX, Wirtschaft Magazin fir Lëtzebuerg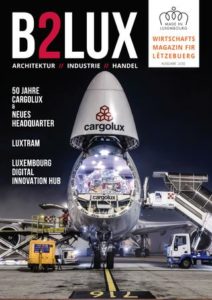 The challenge to the infrastructure in urban areas is becoming increasingly complex. The new tram will have a length of 16 kilometers after completion of the entire railroad. What was the biggest challenge for you during the planning phase?
 Paul Wurth Geprolux focused on the deadline compliance of the works over the Kirchberg and through the city centre. The works had to be precisely coordinated with the City of Luxembourg and scheduled in such a way that the disruption of the traffic was kept to a minimum, especially in the keys traffic sectors of the City of Luxembourg. This was quite successful, but plans also had to be improved and updated from time to time.
Special restrictions on traffic flows had to be programmed for periods of school holidays in order to benefit from the lower number of road users. Specific requirements also applied to the day of the marathon or braderie, as well as to the Schueberfouer. Furthermore, the interruption of the entire construction site due to the current pandemic with the subsequent complete restart of the works within one week and the necessary preparation time of 3 days was the major challenges, which could only be managed thanks to the excellent cooperation between all companies.
As an engineer, did you expect that the tram would be so well received as a new means of transport in Luxembourg?
We can clearly affirm this. The Funicular in direct connection to the railway, in combination with the tram, have optimally expanded public transport and made it more attractive for users.
Where do you see further development potential for tramway lines in Luxembourg?
When the current project as a whole is  completed and the Findel airport is connected to the new stadium, I think that wherever there will be a high traffic flow, to, and from the city of Luxembourg, tramway lines will be used effectively ; for example in the direction of Sandweiler and Contern. Extensions are already planned in the direction of Esch, Strassen and Bertrange.
What excited you in this project?
Coordinating a construction site that runs for about 18 months through the heart of the City of Luxembourg and is under external observation every single day is a challenge that cannot always be met in a working life. This opportunity is unique and had to be taken.
Confident with complexity.